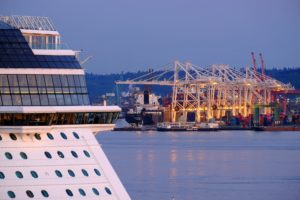 From where I sit, I can see the Port of Seattle. With the exception of the grain export terminal to the north, pretty much everything has been slower since February. Initially it was the breakdown of Asia-based supply chains that shut down shipments. In the past month it's been the collapse in demand at our end. It's been an ongoing and daily indication that things have changed greatly.
More recently, another sign of change has emerged. Last year the cruise ships started showing up during the first week of April. Three boats a week at the terminal closest to me, and more to the larger and more heavily-utilized terminal to the north. This year they are conspicuous only by their absence. The cruise terminal to the north still has tuna boats parked in front of it. Why not? It's easier access than other locations.
To the south, the development of Terminal 46 — a previous container terminal that was supposed to slowly be rebuilt as another cruise terminal — seems to be on hold. An idle construction ship is parked there now. Will it ever be redeveloped? Maybe not. We may yet regret not building a new sports arena there, but the adjacent two stadiums are also unused right now, so maybe not.
Some of the impact is permanent
Some of this will come back. Supply chains will sort themselves out and shipping will resume. Terminal 46 will never go back to being a container terminal (it never was going to anyway) and who knows if it will ever be another cruise terminal either, but the others will go back into full use. The stadiums will eventually host sports again.
Some things aren't coming back and no amount of crowing by self-interested politicians and their paid sycophants is going to change that. How we work, how we live, and how we recreate will in some ways be permanently changed by the time we emerge from this crisis. Crises have a way of doing that. The last time we faced this was after the twin crises of the Great Depression and World War Two. This time we'll be facing the still unresolved impact of the 2008-2009 recession and the unknown impact of Covid-19. In 1945, some still expected the world to go back to familiar pre-war reality. They would be disappointed, as will those who are waiting for "the good old days" today.